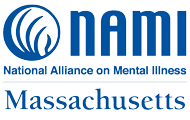 When you become a member of NAMI Mass, you become part of America's largest grassroots organization dedicated to improving the lives of people diagnosed with mental illness.
Join now and become a part of NAMI at the national, state, and local levels. Member benefits include The Advocate, member discounts for the state and national Conventions, access to the NAMI online member community, and more!
We have three membership rates, depending on what makes the most sense for you:
$60 per year for a Household membership that includes all members of a household living at the same address
$40 per year for a Regular membership which is an individual membership for one person
$5 per year for an Open Door membership for an individual member with limited financial resources
Join online (or renew your membership) by visiting the NAMI website (opens in a new window). You can also complete and return a membership form by mail.